Nuhash Humayun's Global Success: Faith in Bangladesh's Film Industry Restored
Ramadan 2019. As a stressed, overwhelmed, a teensy bit parched, and hungry little me was browsing Facebook looking for an escape from A-Level Physics, I came across a commercial for a mobile phone company. It featured a boy in Bandarban running around his village to notify his neighbours of the time for Seheri and Iftar as the sound of Azaan from mosques didn't reach the area they lived in.
It wasn't even a sad video and had yet made me tear up because it isn't every day that you get moved enough by a cinematic piece to make you start believing in humanity. It was as if right then, I needed someone to tell me that there are reasons to appreciate the gift of life, and the 3-minute commercial had really done that.
That ad film titled "Running Rafee" wasn't the first work of Nuhash Humayun that I'd had been fortunate enough to watch and truly enjoy. Since long before that, he has been making small contributions to Bangladesh's film industry- concretizing fascinating concepts into short-length movies, TV commercials, and music videos.
While dramas and movies give you ample time to connect to the story and the characters, short films get only about a quarter of that time to leave a mark on the audience. Nuhash Humayun's various projects have done exactly that- gave us a taste of the artist's unique approach to painting stories into visuals and restored our faith in the film industry of Bangladesh.
Nuhash Humayun's creations are not limited to short films and commercials. In 2017, he debuted as a director on TV with the Eid-ul-Adha drama television drama Hotel Albatross. His involvement on television also includes Shesh ta Shobai Jaane, a Valentine's Day special TV drama for the series Closeup Kache Ashar Oshomapto Golpo in 2020.
The Asian Film Academy alumni Nuhash's multi-faceted identity as a writer, director, filmmaker, cartoonist, editor, and producer can be summed up in one word- a storyteller. In every project, he comes up with a new story to tell in his unique, weird, experimental way- which honestly is pretty entertaining to witness as an audience.
If you have watched or do watch (upon these recommendations maybe?) any of the following works of Nuhash, you're bound to appreciate the quality of his creations.
Dhakapocalypse (2016)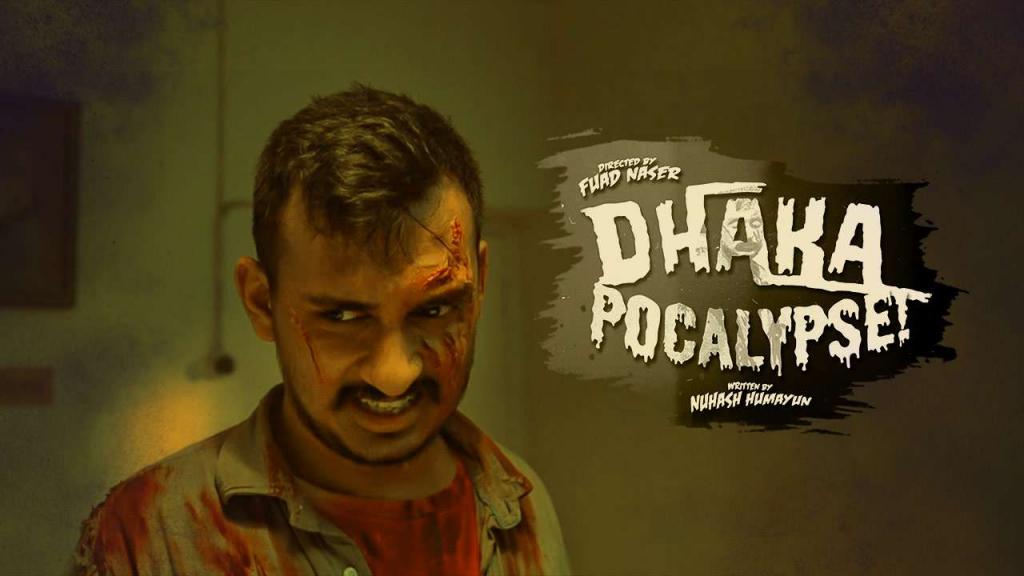 This 5-minute comedy-horror written by Nuhash Humayun takes a comedic approach to a zombie attack on Dhaka city. It shows how residents here are so accustomed to the uproars caused by horrible living and breathing humans on the regular that the commotion caused by dead zombies doesn't really bother them.
Hotel Albatross (2017)
This half-hour TV drama is part of the Eid-dedicated TV series Osthir Shomoy Shostir Golpo. Written and directed by Nuhash Humayun, this episode of the series titled Hotel Albatross centres around four chefs working in a hotel with personal differences and antagonism amongst themselves. Suddenly, they are stuck together in a hostage situation in which four of them have four different, conflicting alternatives for rescuing themselves and one other.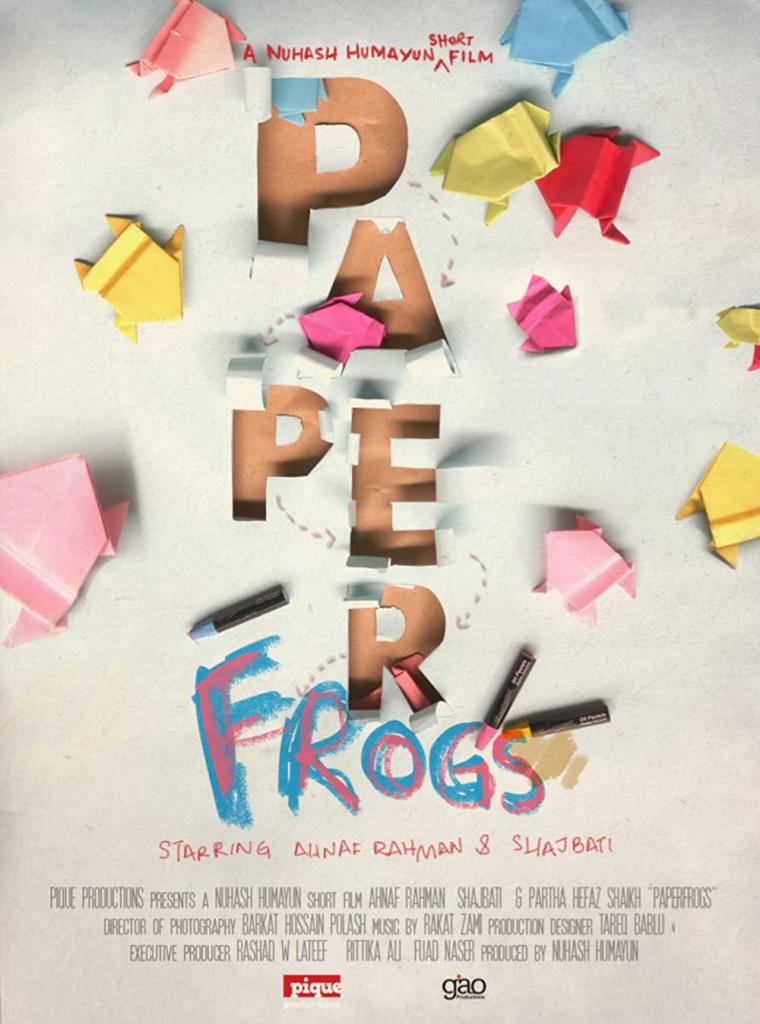 Paper Frogs (2017)
Writer, director, and producer of this short film, Nuhash Humayun focuses here on a dispirited young man named Rayhan who is dealing with his parents' divorce and other failures in life. An encounter with a stranger, however, changes his perspective of life.
The Background Artist (Iti, Tomari Dhaka) (2018)
The Background Artist is the first segment in the Impress Telefilm anthology film ইতি, তোমারই ঢাকা. In this first-ever anthology film produced in Bangladesh, 11 promising Bangladeshi directors painted their perspectives of the regular occurings in Dhaka city on the canvas of a drama film. Nuhash's The Background Artist tells the story of a junior artist in the film industry and depicts the culture and norms of the city in a comedic light. The writer and director of the segment, Nuhash Humayun, has called it a "love letter to classic Bangla cinema".
The anthology had its premiere at the Busan International Film Festival 2019 and has screened around the world.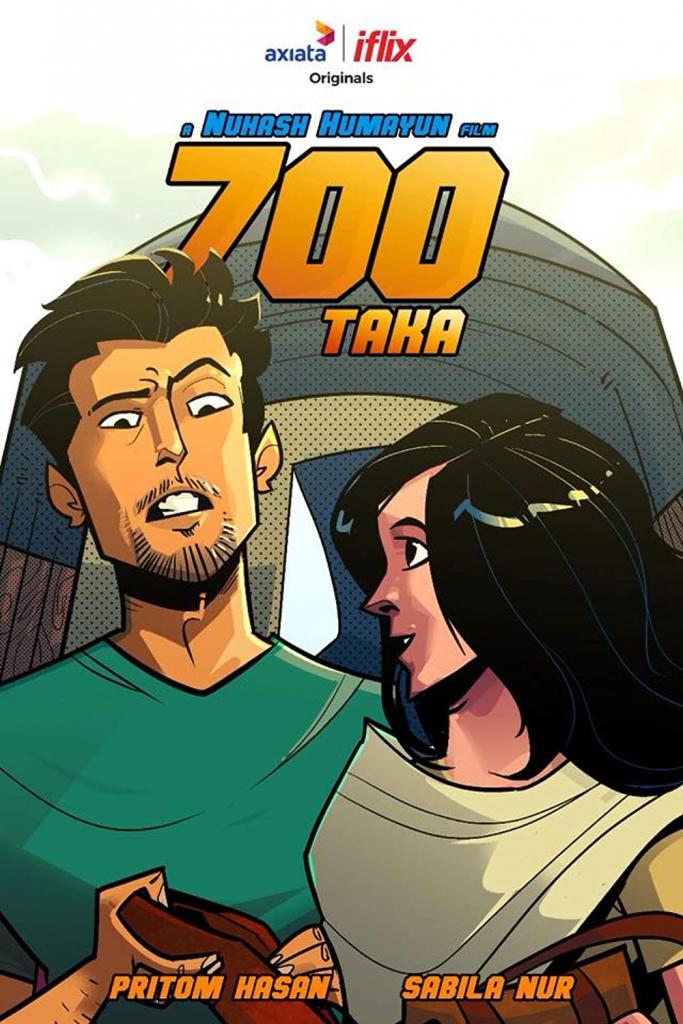 700 Taka (2018)
A 17-minute lighthearted romantic comedy- 700 taka is a story centring on the paranoia of a broke young man about the fact that on the day of his first date with a girl he really likes, he has only Tk. 700 in his wallet. *spoiler alert* The film ends with a message about the importance of honesty in relationships.
Pizza Bhai (2018)
The plot of this short film sheds light on the gruelling lives of pizza delivery men in our country. It revolves around the struggles of a delivery man who chooses an easy but the wrong way out of his miseries and gets trapped in a mess from which there's no escape.
In most of these, you'll observe Nuhash Humayun's way of blending different genres and creating multilayered stories that aren't too complicated but also address serious issues. Usually, in his works- commercials, films, and even music videos- he bases the storyline upon a serious theme or topic and euphemizes it with a comedic context- making the end result entertaining and appealing to a large group of people, especially the youth. These turn out to be very different from the mainstream stories we usually get to consume in Bangladeshi TV dramas.
His recent creations and accomplishments make it natural to conclude that Nuhash Humayun is one of the handfuls of makers with the potential to save the film industry of Bangladesh. With the global achievements of Moshari and the commendable success of Pett Kata Shaw, it's easy to see why.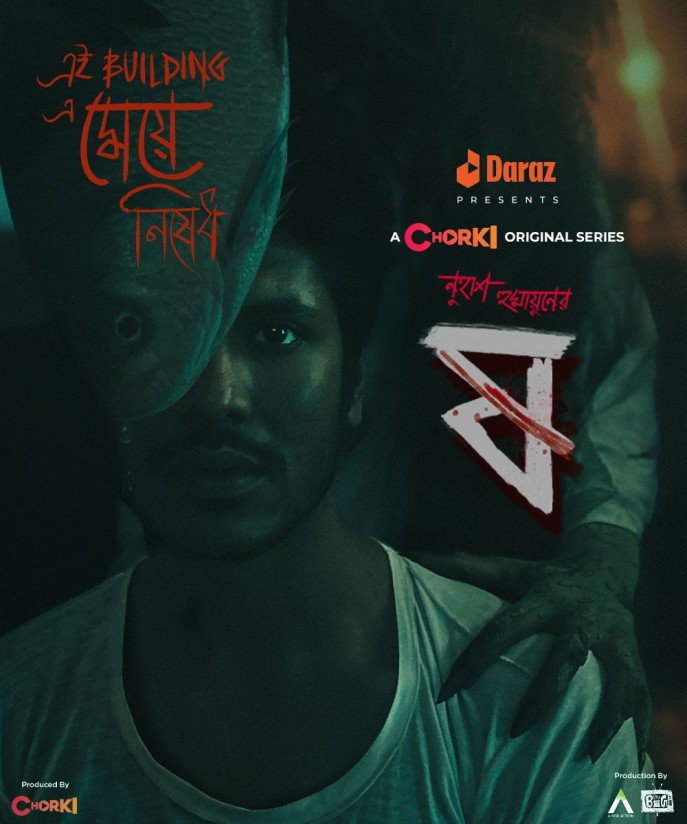 Pett Kata Shaw (2022)
Now streaming on the OTT platform Chorki, Pett Kata Shaw is a four-episode anthology series taking the horror genre (which was criminally underexplored in the country) on a different level by infusing Bangladeshi folklore into it. With great casting and gripping stories, in this "experimental" project of his, Nuhash Humayun has really outdone himself.
Generally, the Bangladeshi audience, specifically connoisseurs of the horror genre (which is not everyone's cup of tea), have been gobbling up foreign horror content for years. While they do quench your thirst for an eerie, blood-curdling piece of fiction- they lack something. Relatability. And that's what Director Nuhash Humayun brings to the table with Pett Kata Shaw.
The four 30-minute episodes in the anthology- Ei Building E Meye Nishedh, Mishti Kichu, Lokey Bole, and Nishir Daak– all recounted the long-established Bengali folk tales we grew up reading, watching, or listening to from a modernized angle. Besides being hit with terror and tension, viewers were presented with issues like superstitions, mental health, etc., embellished in imposing background music and excellent visuals. I won't give away the more about the storylines here because that would rob you of the thrilling experience of encountering these haunting stories for the first time.
Moshari (2022)
Globally recognized horror short film Moshari is Nuhash's most esteemed work so far. Being one of the projects on which he worked as a screenplay writer, director, editor, and producer- evidently, it was a special work for him even before it gained all the international glory. In one interview, Nuhash Humayun mentioned how he never tailored the film to suit the palates of the international audience. Yet, with the limited budget for VFX, editing, makeup, etc., the film was brought to fruition as a masterpiece.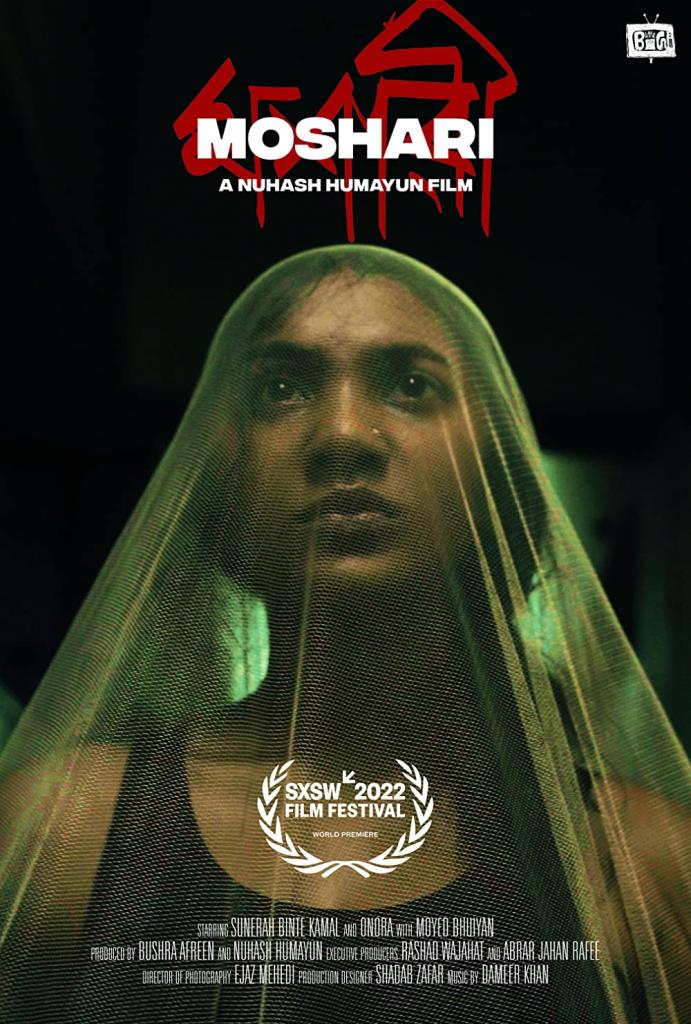 The 22-minute short film features two sisters in a post-apocalyptic Dhaka, Bangladesh, trying to save themselves from bloodthirsty monsters who have taken over the world. Their pursuit of survival revolves around a mosquito net (moshari). With this film, Nuhash Humayun has tried to depict the amalgamation of curiosity, fear, and thrill a Bangladeshi kid experiences as they are sheltered by a moshari from the threats outside. This first-of-its-kind horror short dismisses the many stereotypes about Bangladeshi cinematic norms and represents our culture in a superior light for the world to see.
Accolades and Recognition for Moshari
Moshari was the first Bangladeshi film to have its World Premiere at the 2022 SXSW Film Festival's Midnight Shorts segment back in March 2022. While that is already big enough for Bangla cinema enthusiasts and the industry itself, the short film has also bagged the Grand Jury Award in the SXSW Midnight Shorts category.
This was just the beginning of the success stories of this phenomenal piece, for now, it also wears the grand honour of being an Oscar Qualifying film. Nuhash Humayun's eccentric vision and ability to translate it into an outstanding work of art earned Moshari the Jury Award for Best Narrative Short at the Academy Award-qualifying festival- the Atlanta Film Festival (ALTFF) 2022.
Amid its festival run, Moshari was also picked for the 2022 Marché du Film – Festival de Cannes & SITGES Festival International de Cinema Fantàstic de Catalunya's Fantastic 7 section.
Anonymous Content and CAA
Moshari's success has proved to be a massive breakthrough in the career of its creator. Following his achievement of two estimable global awards for his film, Nuhash Humayun has recently been signed by Hollywood's top agencies- the US-based production and management company Anonymous Content and CAA (Creative Artist Agency). Apparently, the contract isn't bound to one project but the young filmmaker's entire career onwards.
Among other notable works, Anonymous Content has produced the sensational Hollywood gem Eternal Sunshine of the Spotless Mind and the masterpiece Mr Robot a psychological-thriller series. One of Hollywood's "big four" talent agencies, CAA is associated with global big shots like Chris Evans, Zendaya, Andrew Garfield, Scarlett Johansson, Tom Hanks, etc.
Moving Bangladesh – First Feature Film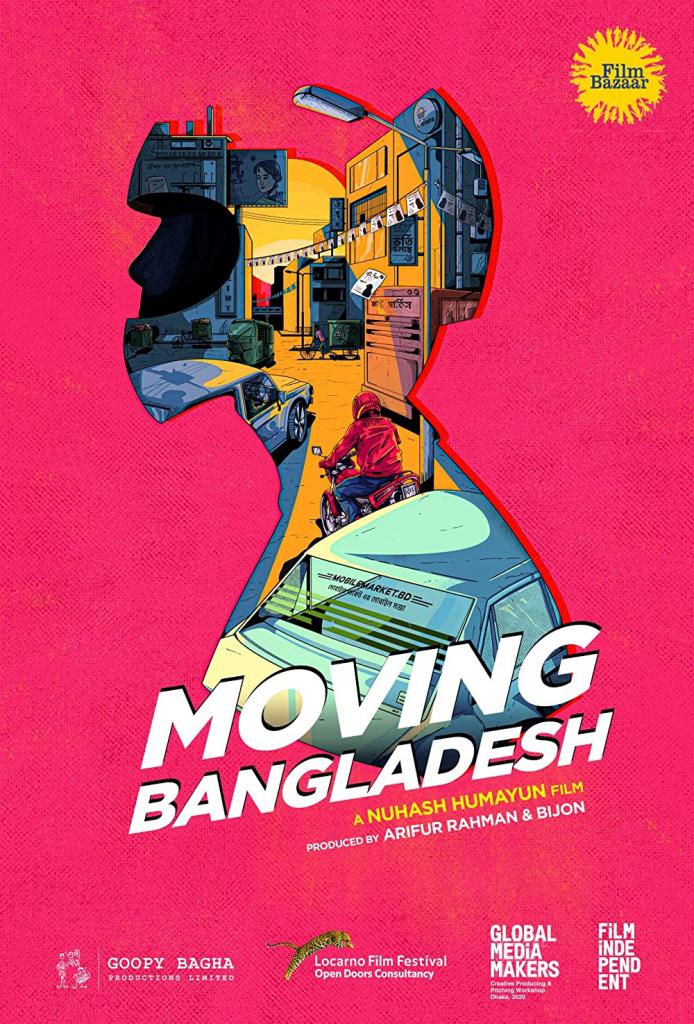 Back in 2020, Nuhash Humayun announced his directorial debut for a full-length feature film Moving Bangladesh. Inspired by true stories, the film will centre on the frustration of a young university student with Dhaka traffic and life in the city in general and how this young individual teams up with his friends and devises a ride-sharing app that will revolutionize the transport facilities in Bangladesh.
In 2020, Moving Bangladesh was the only Bangladeshi film that year to be represented in the NFDC Goa Film Bazaar Coproduction Market. It was also one of the top-performing projects there that were invited to Marché du Film – Festival de Cannes owing to a Film Bazaar and Cannes partnership. It was the first official invitation that a Bangladeshi film had received for Marché du Film's Coproduction Day and not a paid screening.
Earlier this year, Moving Bangladesh was selected for the 2020 Sundance Feature Film Programme, making Nuhash Humayun one of the 13 screenwriters selected for the programme and also the first Bangladeshi fellow in the programme. For the past 40 years, the Sundance Institute Feature Film Program (FFP) has been supporting prominent independent filmmakers whose unique works have received love and admiration from viewers all over the world.
Conclusion
While it's very easy to conclude that part of Nuhash's fame and recognition is attributable to that of his late father, legendary novelist Humayun Ahmed, there was no way he could have hit these achievements without his own talent, competence, and determination. In every one of his projects, you'll notice a rich sense of authenticity that sets the internationally acclaimed Nuhash Humayun apart from all other makers in the industry in our country. There haven't been many creators who have been able to represent Bangladesh, the country's culture and stories in as sophisticated a manner as Nuhash Humayun has, in front of renowned global filmmakers.
To me and most avid readers of late Humayun Ahmed's books, Nuhash Humayun was sort of like a fictional character we'd grown up reading about. He's been mentioned numerous times in his father's interviews, autobiography, personal recounts, acknowledgements, and whatnot. Now that I see him reaching milestones left and right, it feels like the perfect development for an important character, albeit he's not fictional.
It is extremely satisfying to witness Nuhash Humayun's achievements for his outstanding talent and creativity. But it's also important to note this promising multitalented "storyteller" is completely his own person, with the potential of taking Bangladesh's film industry to unimaginable heights, and deserves to enjoy all the credits for his accomplishments entirely by himself.
---
Follow The Interlude for more!