Argentina Vs France, A Final For The Ages
World Cups are a big deal in the world of football. They influence new trends and shape the way the game is played. These tournaments only happen every four years, so they have a big impact on the sport. In the past, we've seen Spain and France set new standards for how the game should be played during their World Cup appearances. So, what did Argentina bring to the table at this year's tournament?
Arsène Wenger's World Cup Prediction Proven Wrong by Argentina
Arsène Wenger's words started it all. The CEO of FIFA's Global Development department mentioned that the World Cup would be won by "the team with the best wingers," based on a report that showed most goals during the group stage came from crosses.
But Argentina proved this theory wrong. They needed the fewest crosses to get into the penalty area (23%) and had the fourth fewest crosses per game (6) of any team in the tournament. If there's one thing Scaloni's team has shown us, it's that they do things differently than other teams, almost like they're swimming against the current in search of the past.
Messi's Role in Argentina's Unique Style of Play
Of those [goals], almost half came from Messi (13), which isn't surprising. In this era of wingers and teams that attack from the outside to create more shooting opportunities and avoid the centre for fear of losing possession, Scaloni has built a team that advances through the centre and takes different forms because the ball is always in control. It's the ball that dictates the play in a style of football that relies on close connections between players all over the pitch.
Argentina's Turning Point At The World Cup
Like all love stories, there's always a turning point where things change. That first experience marks the protagonist and helps the viewer understand and empathize with them. Arabia was that ruthless lover who forced Argentina to make decisions, lose their fear, and find their essence. 
In that match, we saw a game of chess where strict order prevailed like each player was responding to an earlier order instead of a stimulus. That's what football is all about – unrepeatable moments and decisions that will never happen again. After the tough loss, Argentina reacted. History came full circle against France.
Argentina's Adaptable Approach to Possession
The asymmetry doesn't come from tactics but from the player's will.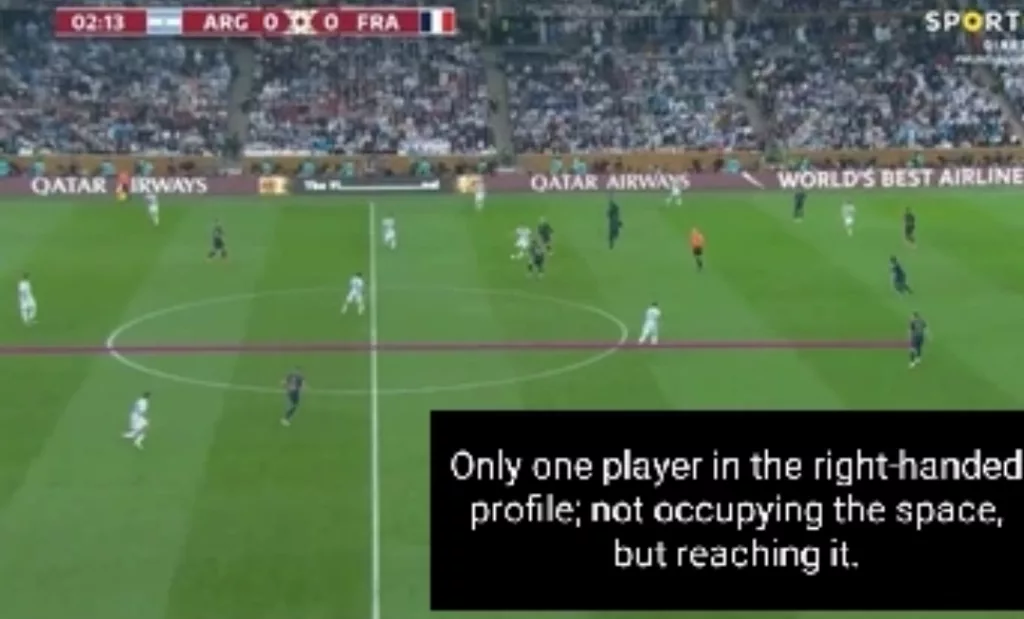 When in possession, Argentina often creates space on the opposite side with no one in front of the ball. The team prioritises growth through short partnerships.
Football is similar to a tree, and Scaloni knows when to prune it. But he also gives the roots freedom to grow as they please. Only with Di Maria against France did Scaloni look for open space, and even then, it was in an asymmetrical system.
For Argentina, width on the field is not created by pushing players high up like Brazil and Spain do. Instead, it happens naturally when players from deeper positions appear often. Scaloni has made a team with four or even five midfielders (including Messi, the best playmaker of all) and only one attacker, Julián Álvarez. His mobility alone allows the team not to need more attackers.
Scaloni wanted to do a few things with this setup. He wanted to break through opposing defences, go inside, and use the opponent's movements. He also wanted to give the ball to Messi in good positions. Then, players in the back could start running, like a signal to begin the next move.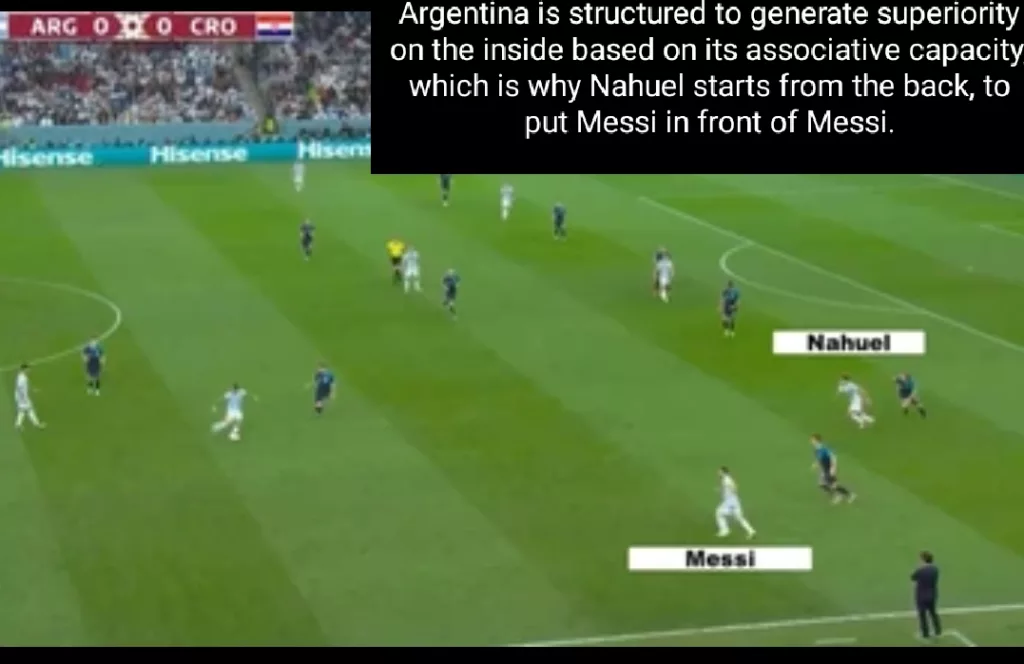 Enzo Fernández for Argentina
With Enzo as the main organiser, Argentina gradually used different schemes with an adaptable structure that fits each situation. Nahuel goes to the back so Messi can receive the ball facing him. Argentina starts to progress through passing and quick touches that open doors that seemed closed, finding spaces that didn't exist before. Every movement is meant to harm the opponent, not through positioning, but through passing.
Argentina's Chaos-Inducing Style of Play
Once the chaos starts, Argentina takes charge. They're not Batman; they're the Joker when the fire breaks out. That's when they find the freedom they want, with players who hardly lose control and always try to go around their opponents, connecting with short passes. Julián Álvarez makes such aggressive runs that they can hardly keep up.
Scaloni hates the rigid order that often rules the game. Wenger predicted the World Cup would be won by the team with the best wingers, and Di Maria showed that only one half is enough if talent comes first. Who will copy Argentina?
Analysis of France vs Argentina
Argentina was far superior for 110 of the 120 minutes, and it was all thanks to Argentina's planning and execution and France's side that left many doors open.
A look at the passing network of the final shows how Scaloni built his superiority on the inside:
Enzo, the boss of it all
Mac Allister, the second step
Messi receiving in helpful areas
Di Maria as the only glimpse of width
It worked.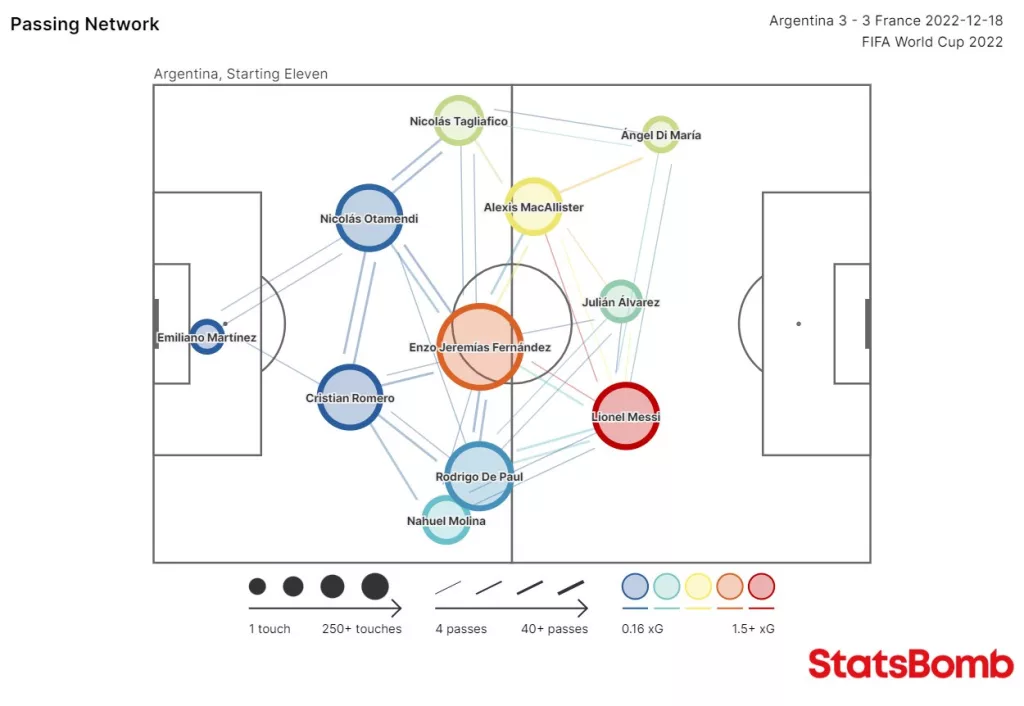 What did Argentina seek?
Vertical starts taking advantage of the fact that Upamecano always Jumps, and late.
Attack the back of the ball watcher (Tchouaméni doesn't control his flanks)
Slow down and get together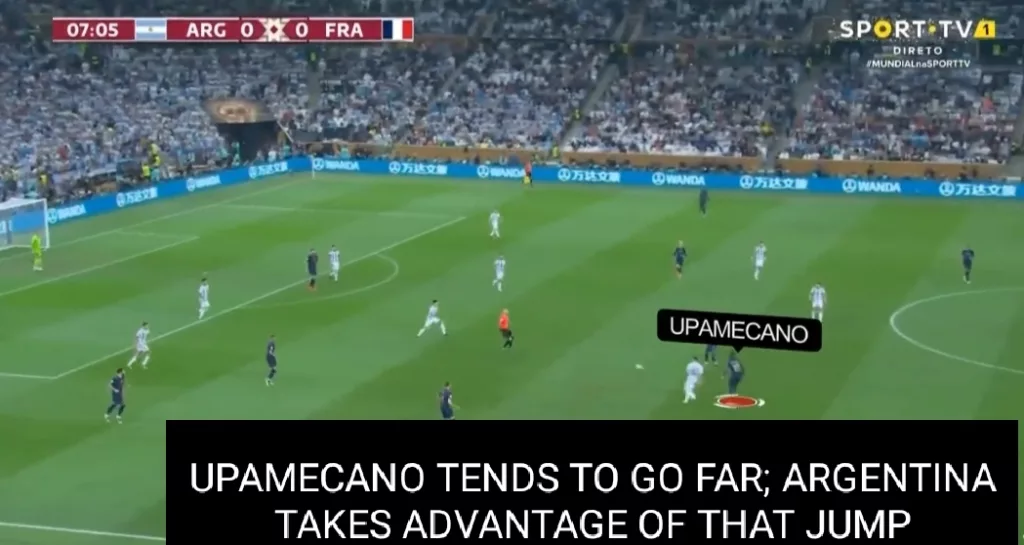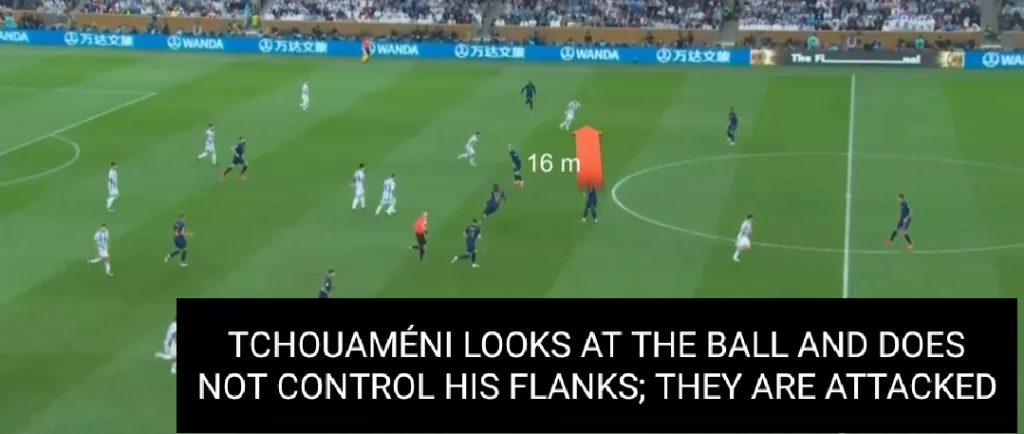 The Penalty Kick Is A Marvel!
Look at how badly France is pressing (Giroud is complaining).
The patience to filter inside at the right time to have won the position behind the midfielders; an advantage.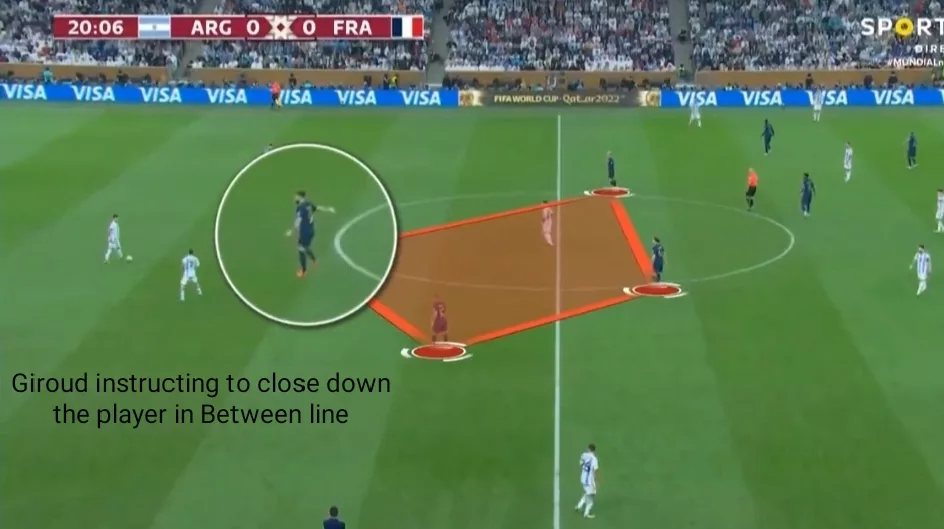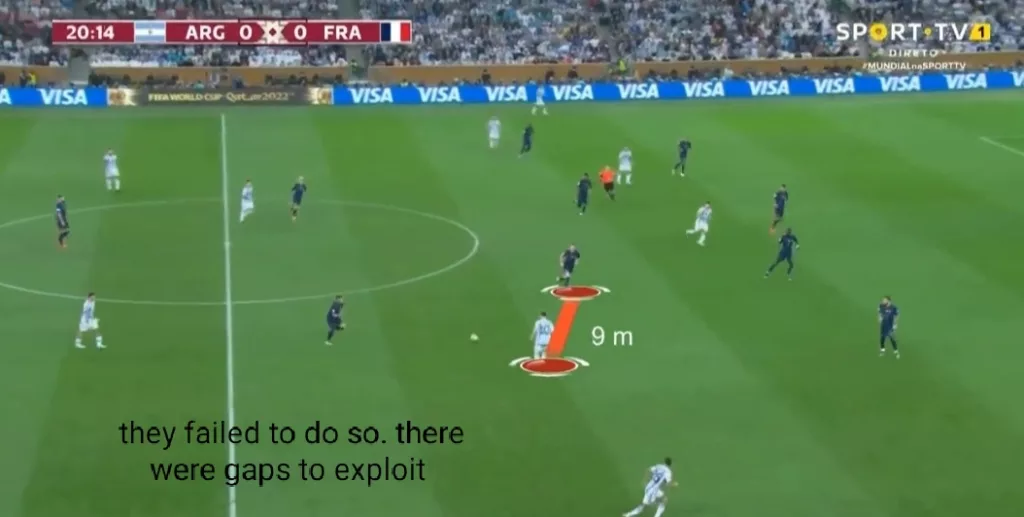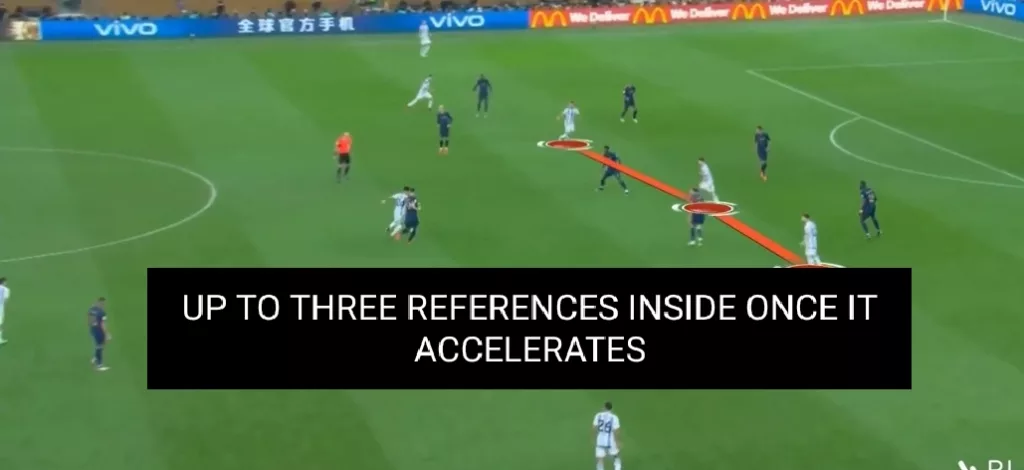 Mac Allister scans to establish control.
Upamecano defends poorly, going after a player already under pressure and putting his back to him.
Tchouaméni's back is beaten again.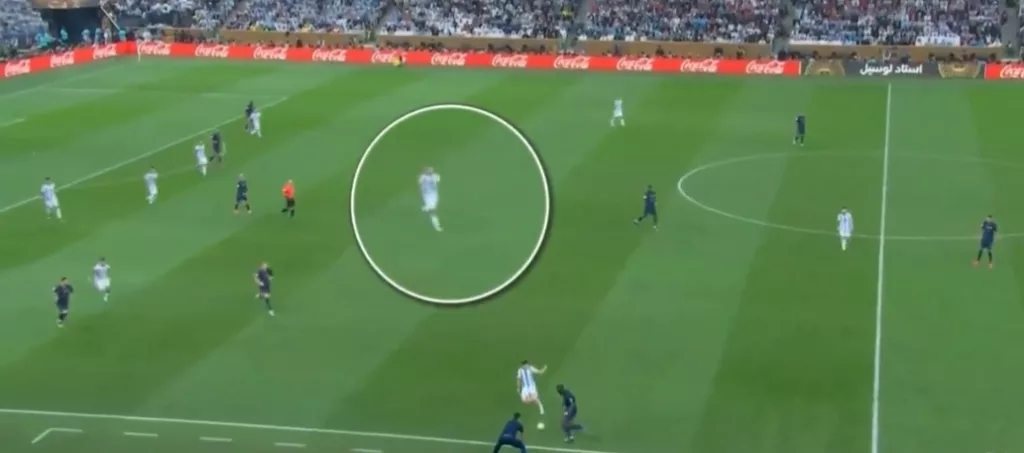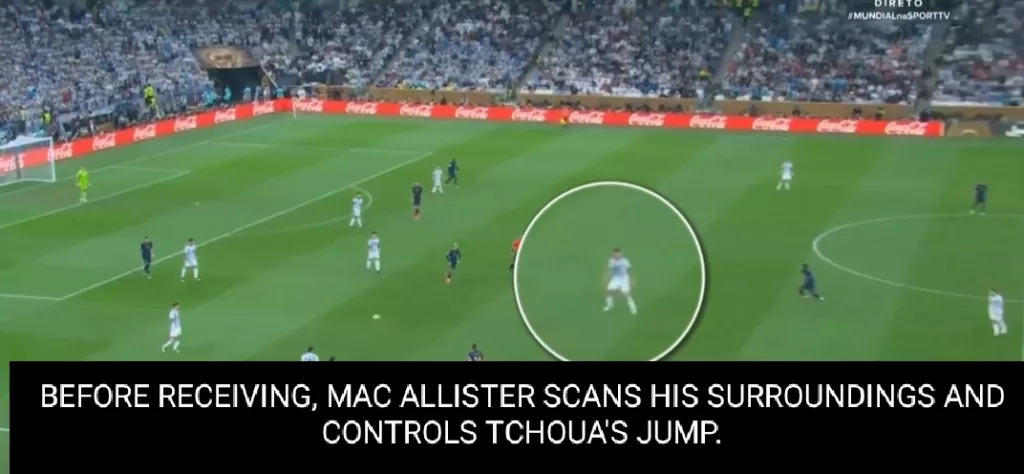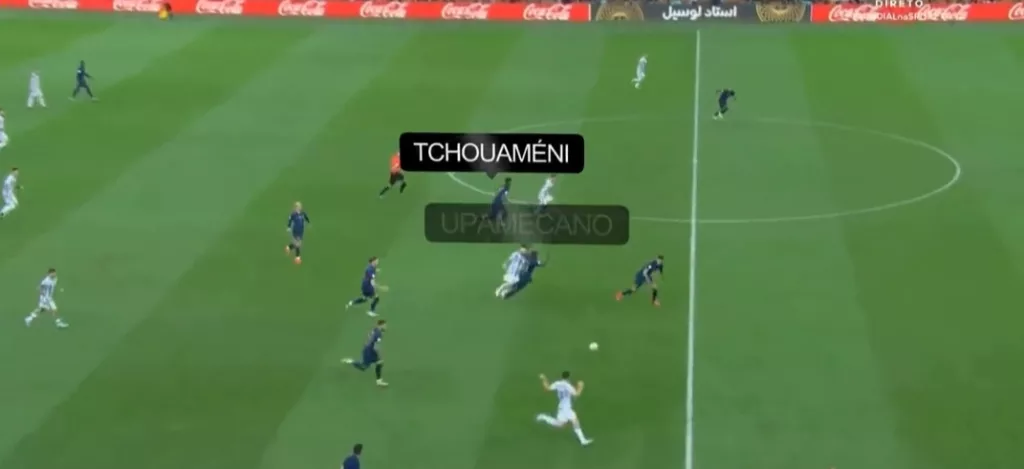 Argentina won the vertical pass. Varane couldn't stop Julián Álvarez. Deschamps' poor pressing made it easy for Argentina to progress and come together. This was Argentina at their best.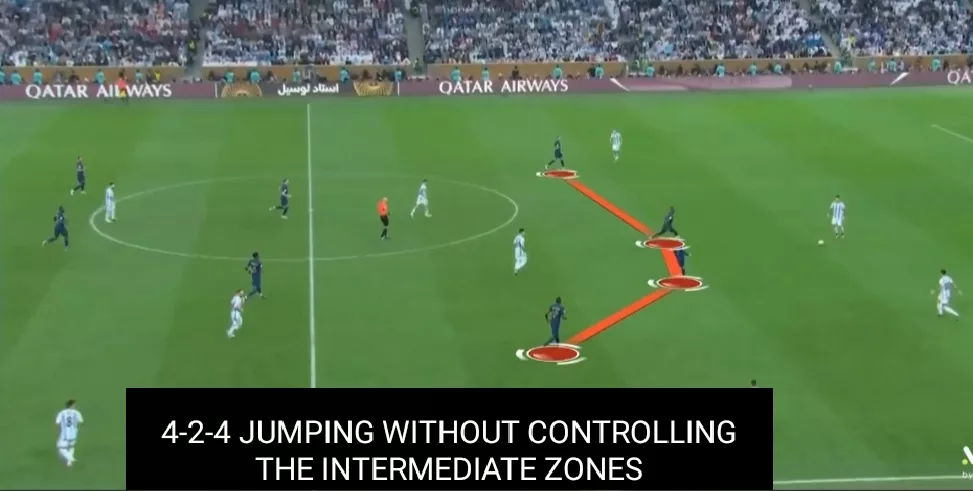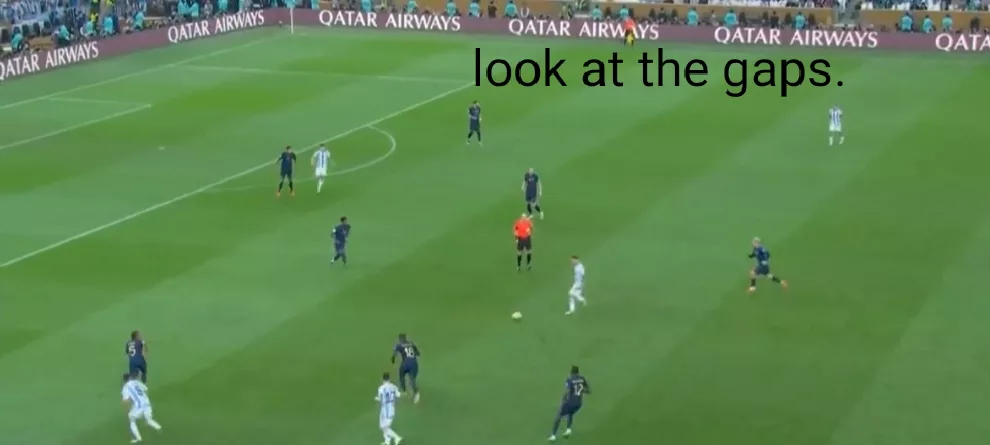 Argentina's World Cup Final Winning Double Pivot (4v3 Against France)   
Messi inside with all kinds of freedom
De Paul and Enzo Fernández options
Overload of Di Maria with AMA
Excellent example of tactics creating both goals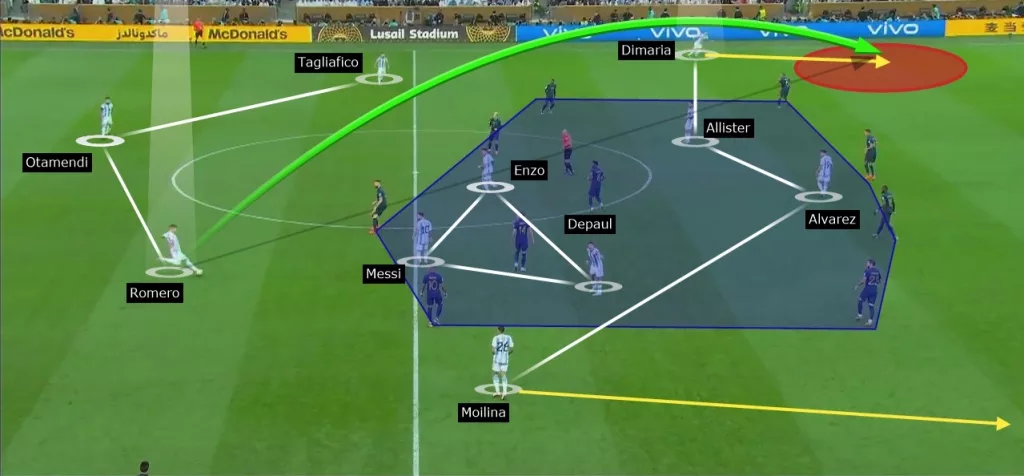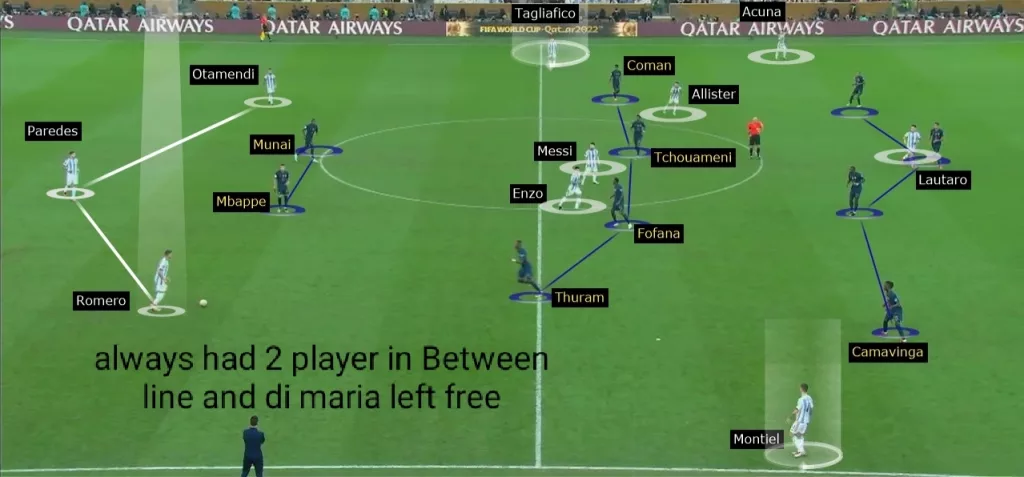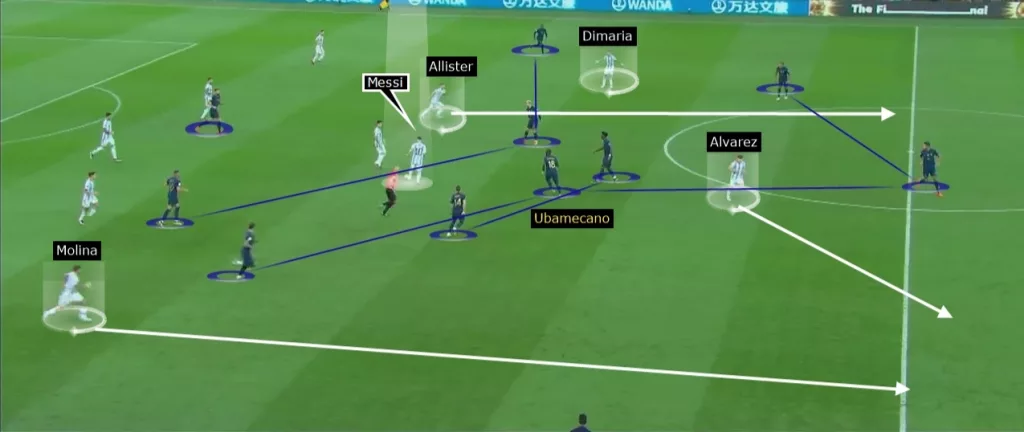 On the other hand, France couldn't get the ball back even with Kolo Muani and Thuram subbed in and Mbappe as the striker. This was partly because Griezmann couldn't get involved, but mostly because Rabiot and Tchouameni's double pivot was overpowered by Argentina's occupation between the lines. De Paul and Enzo Fernandez were able to play freely underneath.
France's Comeback
Tagliafico and Acuña had played together before at the Copa América. Deschamps, who had a lot to lose with his team's shot attempt, quickly reacted by substituting in a fourth striker, Kingsley Coman, for Griezmann. Griezmann had played well in the World Cup but was completely absent in this match. This changed the team's formation to 4-2-4.
It's also worth mentioning the moves of Thuram and Kolo Muani, which showed that Deschamps' substitutions were well-timed for the second French goal: Coman took the ball from Messi, who was in the middle and without a passing option. Then, Mbappé headed Rabiot's cross to Thuram, who out-jumped Mbappé and eventually scored.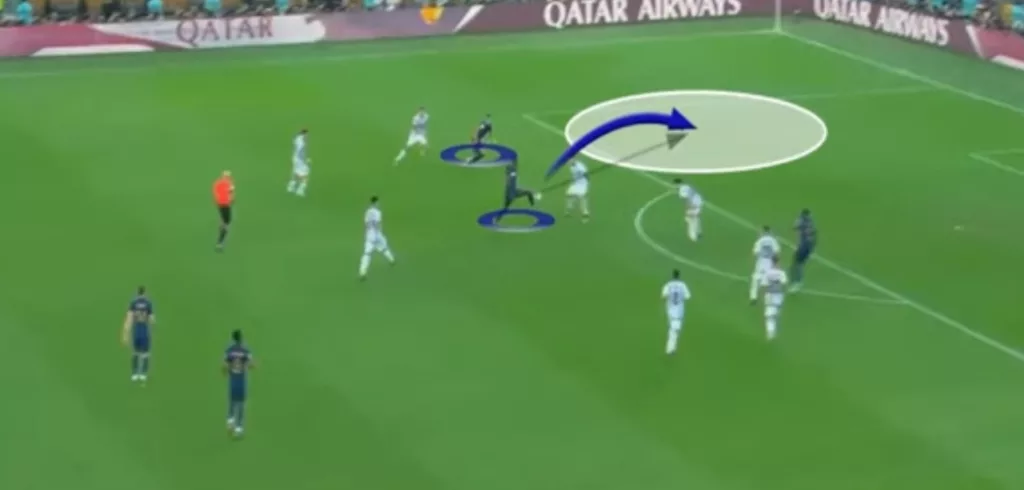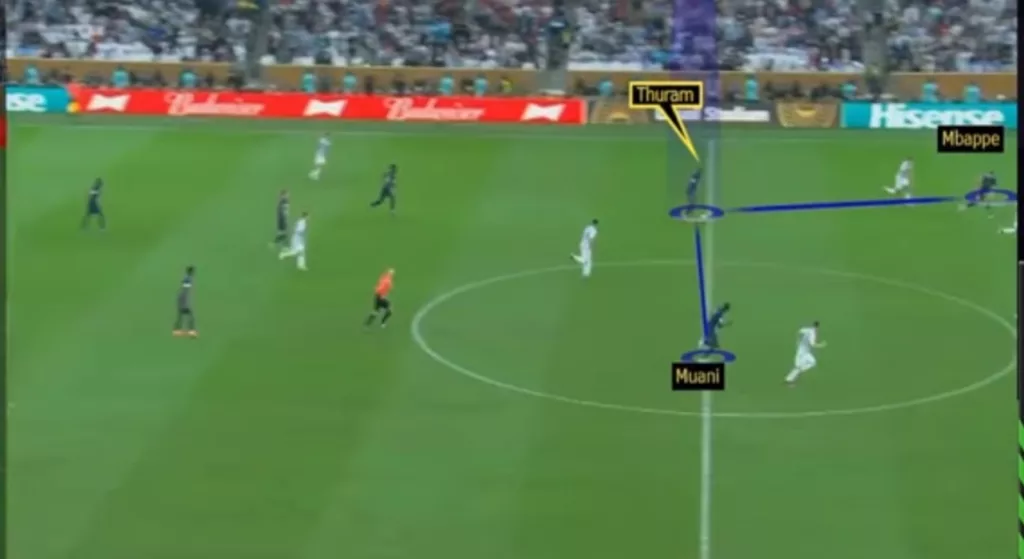 Final Thoughts
In summary, the final between Argentina and France was a memorable match with many exciting moments. Unfortunately, surprising mistakes made sure that the French were ultimately unable to secure the victory. This match will certainly go down in history as one of the greats. Thank you for following along with this analysis.
---
Visit our Instagram and Facebook.
Follow The Interlude for more.