2022 FIFA World Cup: Official Theme Song "Light The Sky" Review
The 2022 Qatar FIFA World Cup recently released its official soundtrack, Light The Sky, which features four of the most popular female vocalists from the Arab world: Nora Fatehi, a Moroccan-Canadian sensation, Balqees, Rahma Riad, an Iraqi superstar, and Manal Benchlikha, a Moroccan award-winning singer-songwriter. It also features Grammy Award-winning Moroccan-Swedish producer and singer RedOne.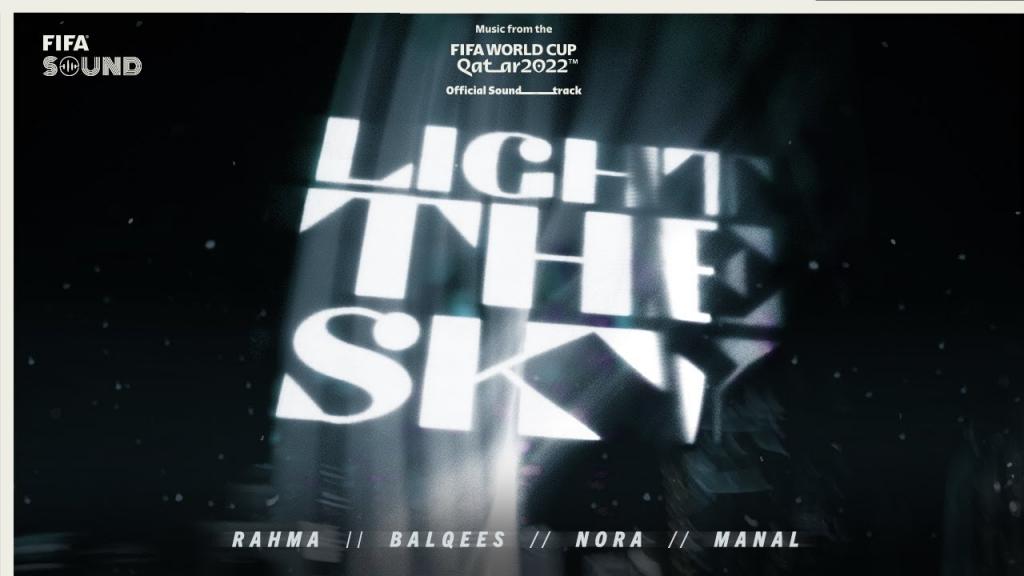 Suffice it to say people from all around the world were eagerly waiting for the release of the 2022 FIFA World Cup Official Theme Song. Even the most casual sports fans have traditionally come together during FIFA World Cups to partake in the football craze. The way such a large-scale event is presented has a significant impact on that. The 2022 FIFA World Cup song drop was highly anticipated due to Nora Fatehi, who is popularly known for featuring in Bollywood item songs.
You've all probably seen videos featuring Wavin' Flag by K'naan when recently doom-scrolling around social media. It would be an understatement to suggest that this song resonates with a generation as a whole. You can therefore imagine the excitement that typically surrounds any FIFA World Cup theme song. While recent years haven't quite reached the 2010 World Cup in South Africa's highs, they haven't been particularly offensive to our collective ears either.
You can, however, clearly see which side of the spectrum the majority of the world is leaning this time. To give you a small sample size of people with quite different tastes, here's what The Interlude had to say about it:
"As someone who doesn't really listen to that much music, I wanted to see what they came up with. It was so horrible I regret spending the 2 minutes I wasted on it."
-Qazi Naqib Monzur (Sports Editor)
"It's disgraceful in every sense of the word. It reflects the sad state that the overall music industry has come to. Bring back K'Naan and Bruno Mars!"
-Masud Zaman (Co-Managing Editor)
"I thought BTS was going to release the official FIFA world cup track, and the world would be divided. Now everyone is united against this pathetic theme song. It is just too generic as a world cup song, in my opinion."
-Mushsharat Bisha (Music Editor)
"I've got a headache after listening to it the first time. It's been a few days now, and it's not going away"
-Shehrin Tabassum Odri (Co-Managing Editor)
"I don't want to be called out as a misogynist."
– Subyeta Sarwar (Fashion Editor)
"Thankfully, the song hasn't traumatised me as much as it did the others because one minute into the music video and I was out. I didn't bother to listen to the rest of the song and saved myself from an ear bleed. But I'm confident that the Bengali version of Waka Waka is a lot better than this."
-Nubah Sameen (Writer)
"Correct me if I am wrong, but isn't the theme song for the FIFA world cup supposed to reflect the love and passion for the sport? "Light The Sky" was basically just a mainstream all-female line-up music video, and while I am all for women empowerment and diversity, this song neither served its purpose nor met the required standard. The song is as dry as Qatar's climate."
– Faeeja Humaira Meem (Editor-in-Chief)
"It's sh*t"
– Asgar Azwad (Tech Editor)
"It kind of doesn't sound like it was meant for FIFA…anyways, it sucked. Big time. That's all I have to say."
– Sadia Shyra Choudhury (Writer)
"Next time you make a football world cup theme song, maybe try adding some actual football-related shots, emotions, and passion in it instead of making it a jumble mediocre pop beats and dance moves? Just a thought…"
– Prodipta Hasin (Writer)
"All style, no substance. It's sad to see how woke culture is affecting everything. And they couldn't resist making it like another Bollywood item song, huh."
– Maleeha Munawara Mahee (Illustrator)
"It simply fails the vibe check."
– Anika Tabassum Nuzhat (Art Director)
"There's a new world cup song?"
– Labib Daiyan (Copy Editor)
"The only way I get back 3 minutes and 49 seconds worth my time is this post reaches 3.49 million views. And yes, I am not sorry that I did not last 4 minutes."
– A N S Muaaz (News Editor)
"Loved Nora Fatehi; they should have added Dhinchak Pooja as lead singer. I suggest considering Hero Alom and Mahfuzur Rahman for the next world cup song. It will be phenomenal."
– Faiyaz Ahmed Rabby (SEO Manager)
The response to the 2022 FIFA World Cup theme song hasn't been exactly positive, at least in this case. Tell us your opinion in the comments. Do you agree with this bunch, or do you have other thoughts?
Other 2022 FIFA World Cup Qatar Official Soundtracks:
FIFA has previously released three official singles for World Cup Qatar 2022: Hayya Hayya (Better Together) by Trinidad Cardona, Davido and Aisha, Ozuna and Gims' Arhbo, and Lil Baby's The World is Yours to Take. More songs are to be released before the 2022 FIFA World Cup tournament starts on 20 November 2022.
Keywords:
light the sky (music from the fifa world cup qatar 2022 official soundtrack), light the sky fifa, world cup theme song 2022, nora fatehi, qatar, بلقیس احمد فتحی light the sky (music from the fifa world cup qatar 2022 official soundtrack)
---
Visit our Instagram and Facebook.
Follow The Interlude for more.