Ao Ashi and Blue Lock: World Cup Anime Rec
With all the hype around the Fifa World Cup of 2022, and the football craze being at its peak now more than ever, it only makes sense to keep the football spirits up and recommend two of the best football anime, one of which quite directly involves the team representing Japan in the world cup this year!
If you're not much of an avid football fan and don't watch the games but still want to keep up with the world cup spirit, and you also happen to be an anime or manga fan, these anime will definitely do just that for you.
Ao Ashi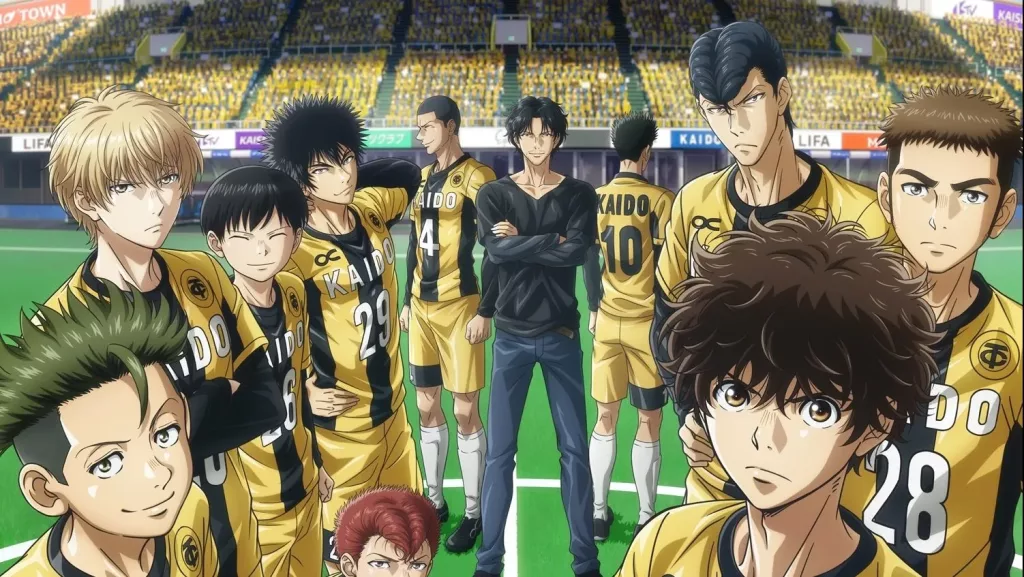 Ao Ashi is arguably the most realistic depiction of football in anime ever. You've watched your favourite footballers play so marvellously out on those fields in the World Cup, but have you ever wondered about how their journey to get there might have looked like in their earlier days? Ao Ashi is perhaps the one anime that can give you a glimpse into the life of a passionate footballer.
The protagonist of Ao Ashi, Ashito Aoi, is passionate about football. He loves the sport but doesn't know much about the rules and tactics around it. All he thinks and daydreams about is scoring goals and feeling the thrill of winning. He gets scouted by a famous ex-footballer from Japan to join Tokyo City Esperion, where they train talented footballers around japan and polish them into world-class players.
Once Ashito gets there, however, no one quite understands why he had been scouted at all. His movements are sloppy, he doesn't have his basics grounded, and he also doesn't seem to know what he's doing. Ashito was arguably the worst player in this new club he had joined, not knowing the basics like everyone else.
However, everyone starts off somewhere, right? He might not have been polished right off the bat, but he had the passion and dedication to improve himself.
Even though Ashito wanted to be the team's ace, his position had been changed abruptly to teach him more about the sport he was playing and to broaden his horizons and learn to polish his own talents. Ashito is a great example of how any footballer starts off – with passion, dedication, and the urge to improve daily.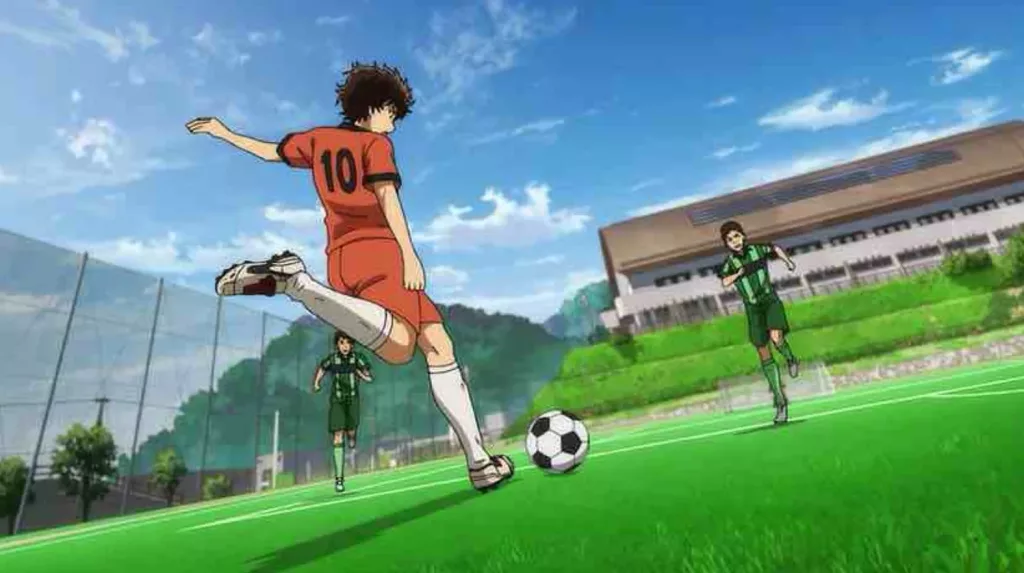 Unlike the classic football anime Inazuma Eleven, Ao Ashi does not have any exaggeration when it comes to their games and tactics. It is as realistic as it gets and perhaps even relatable to anyone that plays the sport. So, without giving out too much of a spoiler, all I'd like to point out is that Ao Ashi is an absolute go-to if you're looking for a realistic representation of football in anime. It shows you the gradual growth of young footballers and the journey of how they become the best versions of themselves.
Blue Lock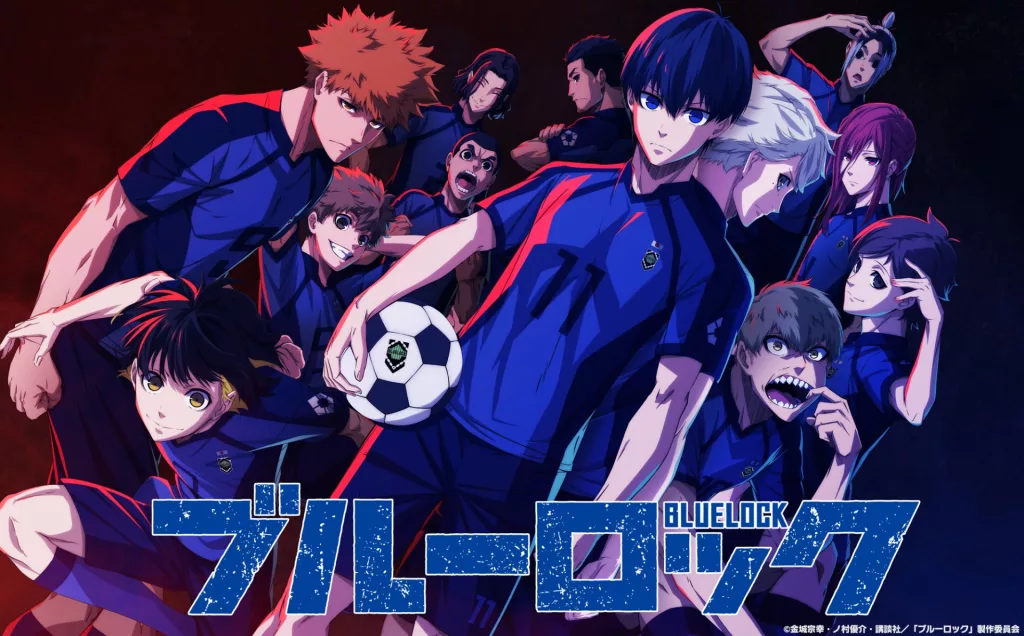 July 3rd, 2018, is a date that has been well-known among Japanese football fans since the dawn of JFA's participation in the World cup. The round of 16 matches, where Japan led by 2 goals only to be pulled back by Belgium and Nasir Chadlis's 90+ 4th minute goal to crush the hopes of an entire nation.
JFA's team being one of the best in Asia in the last decade has consistently come up short of the expectations of their fans throughout the years in major events and has had heartbreaking setbacks in the spotlight.
Past anime and manga based on Japanese football always tend to deviate towards the Japanese 'All for one, and One for All' motto, but is teamwork really what's all there's to it? Or does the Japanese team need a messiah, a genius, a Messi or Ronaldo of their own to shine through at their darkest, a point of utter brilliance brought on by a single player? It is a question that's been circulating amongst the nation's soccer fans for years.
Blue lock builds upon that very idea. The Manga by Muneyuki Kaneshiro and Yusuke Nomura started to serialise post-2018 Russia World Cup in August, and it has finally gotten its anime adaptation in October of 2022.
The plot is built upon putting 300 of the best High-school players in a facility and harvesting the cream of the crop while weeding out the rest. It contains elements from Danganronpa without the bloodshed but with the backlash of failure leading to dreams being crushed instead (or, as Ego Jinpachi says in the anime,'I will make sure they never get to play for the national team again'.) Nonetheless, the story provides a good punch at every corner.
Contrary to typical soccer anime throughout the years that revolve around teamwork and character development, Blue Lock's whole philosophy is to create an Egoistical striker at the height of his ability who can take on the world. The anime has a mixture of traditional animation with slight integration of CGI, which does not take away from the marvellous experience that sports anime fans typically face. It rather adds a sense of liveliness to the show.
Soccer fans can finally agree on having a soccer/football anime that indeed has decent Ragdoll animations, actual resemblance to the game style and fewer fantasy elements in the sport itself.
That said, the story build-up is also good and focuses more on a progressive storyline rather than filler episodes and cliffhangers. It might not be the next Haikyuu, but for soccer fans, after years of settling for average-at-best animations and storylines, it is indeed the next big thing. Blue lock does provide an alternative, and with a much more relevant storyline and character developments in the manga, that does not yet have a skill cap marker.
The manga and the show have already created enough buzz to be featured with 'Giant Killing' on the Revealing of Japan's Pure Bliss Adidas Home kit(blue), with its origami pattern taking inspiration from both the mangas.
The show is out there. With the Worldcup at the cusp, it's more relevant than ever, and as a football/soccer anime with its own thriller elements, it will surely hype you up and have you yearning for more.
---
Visit our Instagram and Facebook.
Follow The Interlude for more.