Portrait of a Lady on Fire: A Restrained Look at Empowerment
Why would I suggest a film that I had kept on my wishlist for two years but ended up crossing out only because I had to write a paper for my course? Because I want others to move it from their "Wishlist" to "Watched" list if they haven't done so yet, unlike me.
Portrait of a Lady on Fire is one of the most aesthetic LGBTQ films I have watched (Top on the list is Call Me by Your Name). Everything was pleasing, from the cinematography to the screenplay, music, acting, and pacing.
The screenplay of the film makes excellent use of traditional techniques. Director Sciamma brilliantly established the dynamic of Marianne and Héloїse. Powerplay between observer and observed in the scene where Heloise posed for Marianne was brought to life by the simple camerawork and shots. The pacing of this scene also brings out the audience's emotion as the characters find a balance between themselves instead of posing dominance.
The camerawork again on the small gathering of village women enhanced the textual and symbolic level of the woman's gaze. Sciamma described the scene as "… a pivotal scene. It's the scene that marks the film's shot/reverse shot dynamic. What's the power of the person who's watching? Who is watching whom?"
French director Céline Sciamma is an LGBTQ activist and adequately represents the community through her works. The assumption is that her relationship with the lead actress Haenel (who plays Heloise in the film), is one of the reasons for this film's success.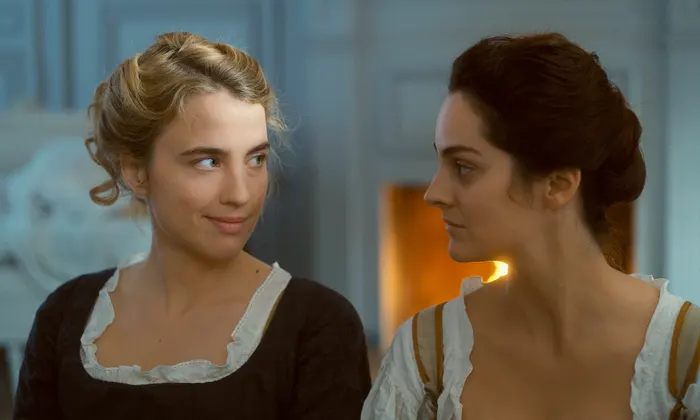 The movie is also filled with symbolic annotations. The fire is as fierce as the characters' attraction toward one another. The freedom that Heloise got from the coastlines and bathing in the sea. Eurydice's story, which was heartbreaking in a poetic way, foreshadowed Marianne's and Heloise's final goodbye.
However, Portrait of a Lady on Fire had no music score. Instead, Vivaldi's Summer, a part of his Four Seasons composition, was a notable addition to express the pacing Marianne and Heloise had between them, which Heloise reminiscences at the climax of the movie. It shows how deep the love they once harboured but couldn't give a destination was. Heloise sat there teary-eyed, basking in her duties as a wife and a mother, while her few days of liberty stayed in the form of art she treasured on page 28 of the book her lover gave her.
As someone who studied Vivaldis' composition, I would say that it was very clever to use Summer out of all the four seasons from the piece, as it resonates with the film's pacing.
To me, the film was as scenic as Marianne's artworks. It gave me both warm and relaxed vibes of summer. I see myself in Marianne's freedom, solitude, and way of living, which is still hard for a woman to achieve without being questioned at every stage. On the other hand, Sophies decision to get an abortion and going through it while holding an infant's hand and Heloise's portrait with her daughter as she holds on to her past life are also relatable. As if I see a part of me in every aspect of this movie.
Portrait of a Lady on Fire had barely any masculine presence. Despite that, the conflict between genders was prominent. Marianne was deprived of drawing male nudes as she was a female artist. We see her submitting her works under her father's name to an exhibition by the film's end. Sometimes, the most important form of validation doesn't necessarily need to have your name carved. Just the appreciation of the accomplishment is enough.
Aside from the struggles of a female artist in the 18th century, there were implications for mental health, suicide, abortion, and same-sex love, which were also considered taboo. It makes us think about how society has evolved. In the recent Roe v Wade court ruling, the verdict was criticized as it went against abortion, creating a mass uproar. In the film, we see Sophie, a maid getting an abortion. To Ela Bittencourt, "Sophie's holding the tiny hand of the midwife's baby during the procedure is one of the fiercest feminist gestures I've seen in film in recent years." (Portrait of a Lady on Fire: Daring to See).
The illegal abortion was inspired by French writer Annie Ernaux who had an illegal abortion in 1963. Several occasions seemed to break the gender norms in the film's timeline.
To conclude, Portrait of a Lady on Fire is a bold representation of being a woman-beautiful, symbolic, daring, and as vocal as it can be. It has one of the best portrayals of queer romance in film history and will undoubtedly have a place in every pride month featured movie list for a long time – maybe even forever.
References:
---
Follow The Interlude for more!